November 20, 2011
Levanen comes close to denying Volker in first A-Main
Categories - Report,Racing , trackback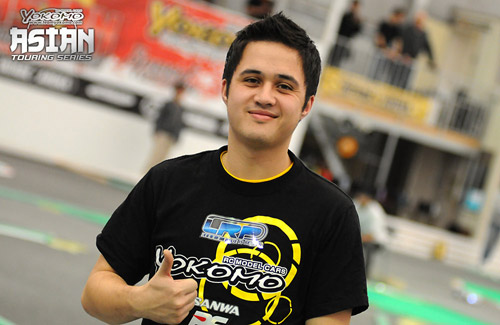 Juho Levanen came very close to ending Ronald Volker's domination of the Asian Touring Series pilot race at the Yatabe Arena in Japan with the Team Associated driver finishing just 15/100th behind the Team Yokomo driver.  Japanese talent Akio Sobue put in a very competitive race making it three different cars in the top 3 as he secured third with his Tamiya TRF417.
Starting from pole position it was expected that Volker would quickly check out but once Levanen settled into the race he was able to close down on the German.  The only driver to beat Volker on carpet last season during his successful campaign to become the Euro Touring Series Champion, Levanen really put the pressure on the Top Qualifier who would make a mistake but trying to avoid the out of shape BD5 the Finn was forced to go around the outside and couldn't pull off the pass.  Not aware that the loop had moved from the main straight position used in qualifying to in front of the timing tower for the finals due to the griding of the car, Levanen had his last lap challenge cut short.
Switching to his second set of race tyres for the opening A-Main Volker said this together with it being a lot warmer in the Yatabe Arena meant his car lost a lot of corner speed. Planning to switch back to his qualifying tyres for the second A-Main he said he hopes this will ensure he doesn't have to work as hard for the win this time round.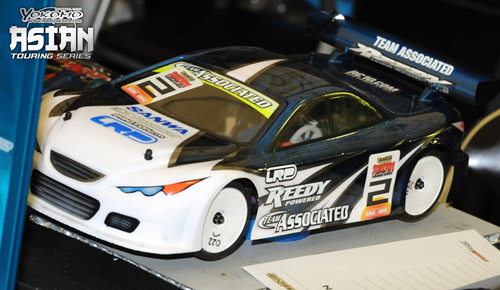 Setting the fastest lap of the race, Levanen said during the opening laps he thought his TC6 wasn't good but noticing the rest of the field was also slower he focused on catching Volker.  Reeling him in he was to show great patience as he ran on his rival's rear bumper.  Clearly faster through the sweeper at the end of the main straight which leads into the timing loop, the former European Champion said had he known the loop had moved he would have thrown his much improved TC6, which is running new suspension parts at the ATS, down the inside of his rival on the final run to the line.
Behind Tamiya Racing Factory's Sobue, who started 5th on the grid, Naoto Matsukura recovered from a moment on the opening lap that dropped him down the pack to finally get passed Yokomo team-mate Lucas Urbain to claim fourth. For Alexander Hagberg his race ended early when he hit a board which caused his Xray to bounce back out in front of the pursuing pack. Hit hard by another car his race was over with the impact causing a rear hub to break.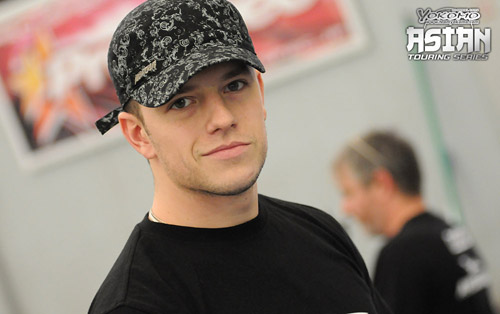 In the opening Pro Stock final Ivan Laptev took the win over Radek Flek but the Russian came under pressure from the Czech driver until a mistake on the penultimate lap.  Laptev said afterwards he had made the wrong set-up for the race and will revert to his qualifying set-up on the Awesomatix A700 for Race 2.  A winner in the Euro Touring Series Pro Stock class which uses a Speed Passion controlled speedo rather than the Yokomo Unit being used here, he said he just discovered that settings he put into the speedo are not the same as on the unit he uses in Europe and now with the correct brake settings he is confident he will have greater pace next time out.  Switerland's Sandro Kuriger enjoyed a good opening race finishing third from 6th on the grid.
Modified A-Main Leg 1 Result
1.(1) Ronald Völker (DE) – Yokomo – 19/5:00.141
2.(2) Juho Levanen (FI) – Team Associated – 19/5:00.318
3.(5) Akio Sobue (JP) – Tamiya – 19/5:02.153
4.(4) Naoto Matsukura (JP) – Yokomo – 19/5:06.656
5.(6) Lucas Urbain (FR) – Yokomo – 19/5:07.585
6.(7) E.C Kim (KR) – Kyosho – 19/5:08.633
7.(9) Yuugo Nagashima (JP) – Yokomo – 19/5:13.168
8.(8) Martin Hudy (SK) – Xray – 19/5:13.906
9.(10)Yamauchi Takehiro (JP) – Yokomo – 19/5:15.622
10.(3)Alexander Hagberg (SE) – Xray – 2/0:20.023
Pro Stock A-Main Leg 1 Result
1.(1) Ivan Laptev (RU) – Awesomatix – 18/5:12.589
2.(2) Radek Flek (CZ) – Yokomo – 18/5:16.304
3.(6) Sandro Kuriger (CH) – Yokomo – 17/5:01.419
4.(4) Yuta Koike (JP) – Hot Bodies – 17/5:02.539
5.(5) Toni Mateo (ES) – Yokomo – 17/5:05.557
6.(9) Kyoichi Matumoto (JP) – Yokomo – 17/5:08.064
7.(3) Kiyoto Kanno (JP) – Xray – 17/5:17.174
8.(8) Yoshihiro Abe (JP) – Tamiya – 17/5:17.571
9.(7) Francesco Martini (IT) – Xray – 17/5:17.865
10.(10)Siegel Toki (JP) – Yokomo – 13/5:03.654
View the complete event results here.
View the event image gallery here.