November 20, 2011
Volker completes perfect quali at Yatabe
Categories - Report,Racing , trackback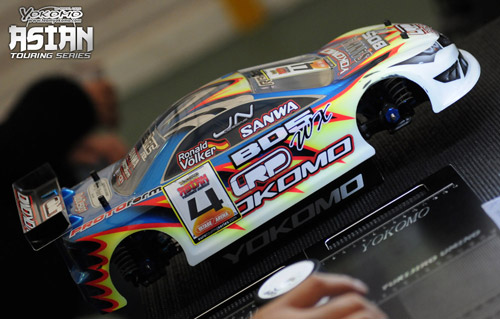 Yesterday he wrapped up the honour of being Top Qualifier for the inaugural Asian Touring Series and this morning at the Yatabe Arena Ronald Volker got even faster, completing the perfect qualification by making it five TQ runs from five rounds. Running the only 15 second lap of the Japanese event in the final qualifier, the Euro Touring Series Champion said his BD5 WXi was a lot more difficult to drive this morning with the car feeling very edgy but the end result was the fastest 5-minute run of the weekend.  The German said the run gives him even more confidence for the final and the only change they will make to the car is a new set of tyres that he scrubbed in in this morning's open practice session.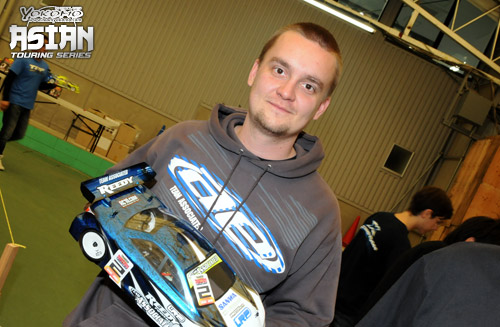 Setting the second fastest time in Q5 to secure second on grid for this afternoon's A-Mains, Team Associated's Juho Levanen says his tyre strategy might now not have been the right decision.  Not happy with the feeling of his TC6 on new tyres the Finn has ran the entire qualification on one set of the control Ride tyres along with running three practices.  With seven runs on the tyres, Levanen said in the final qualifier he felt they were starting to go off.  With his second allocated set of tyres still new he said he must risk continuing with his first set of tyres for the finals as up to now they still offer a better performance than fresh tyres but the former European Champion admits he is not sure they will survive three more runs.
Team Xray's Alexander Hagberg lines up third on the grid but the Swede said his T3 2012 felt very different and slow in the final qualifier and he is not really sure why.  Hagberg said he didn't want to make any excuses for his lack of pace but said the only change he made was to run his second set of tyres.  A mistake on lap 14 cost him almost 3 seconds but Hagberg said even without this he didn't have the pace to challenge Levanen for second spot on the grid.  Asked about his chances in the finals he said it was going to be an interesting race but feels he can give Levanen a run for his money but said both Naoto Matsukura and Tamiya Racing Factory's Akio Sobue are quick and can't be counted out.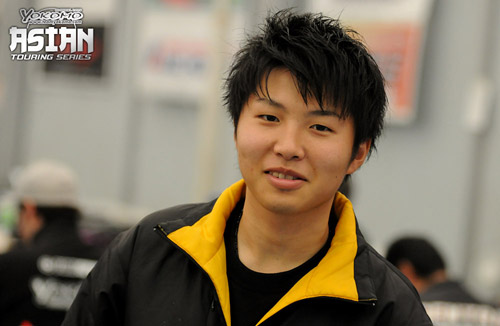 Third fastest in the last qualifier with his fastest run of the weekend Matsukura will be the highest placed Japanese driver on the grid lining up 4th just in front of another of the country's young talents Sobue.  The Japanese National Champion said his Yokomo suffered a little with understeer but planning to switch to softer shock oil for the opening A-Main the 18-year-old said he is feeling confident for the final and with the track layout offering good opportunities to pass he is aiming for second on the podium behind his team-mate Volker.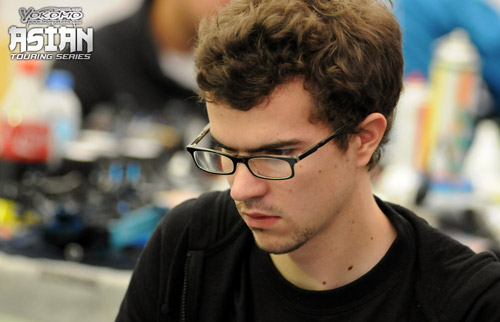 Making his first A-Main appearance at an international event for some time France's Lucas Urbain said it was a great feeling to be back as it been a long time.  The Yokomo driver, who will start 6th, switched to a lighter oil in the rear diff of his BD5 WXi for the final qualifier and said it cured the snap oversteer he had suffered yesterday.  Now lacking a little steering he said he will fill the diff with more oil for the finals which should give him more turn in.  Getting his confidence back after a very tough season the former European Championship finalist said he still needs has to work on his driving but said for now he happy to be heading in the right direction.
Completing the grid for the main event will be multiple Korean Champion E.C Kim driving a Kyosho, Team Xray's Martin Hudy and Japanese youngsters Yuugo Nagashima and Takehiro Yamauchi both driving Yokomos.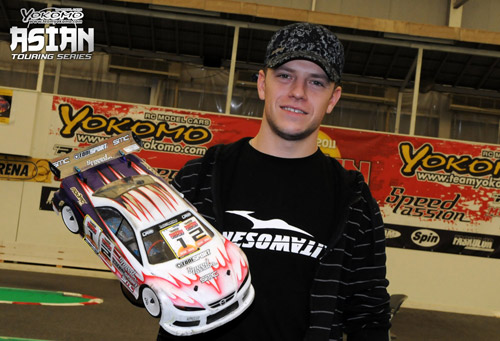 In Pro Stock factory Awesomatix driver Ivan Laptev is the Top Qualifier after he topped Q5 ahead of the Yokomo of Radek Flek who will start second on the grid.  Laptev said he expects a good race with the Czech driver.  The Russian said the balance of his A700 is always changing which can be tricky and so he needs to be careful not to push too hard from the start.  Driving an Xray, Kiyoto Kanno is the top Japanese qualifier starting third on the grid which features six different nationalities.  In GT500 Kouji Okumura secured pole position with a TQ run in this morning's final round of qualifying.
Modified A-Main Grid
1. Ronald Völker (DE) – Yokomo – 310 pts
2. Juho Levanen (FI) – Team Associated – 306
3. Alexander Hagberg (SE) – Xray – 305
4. Naoto Matsukura (JP) – Yokomo – 303
5. Akio Sobue (JP) – Tamiya – 302
6. Lucas Urbain (FR) – Yokomo – 298
7. E.C Kim (KR) – Kyosho – 297
8. Martin Hudy (SK) – Xray – 297
9. Yuugo Nagashima (JP) – Yokomo – 297
10.Yamauchi Takehiro (JP) – Yokomo – 293
Pro Stock A-Main Grid
1. Ivan Laptev (RU) – Awesomatix – 310pts
2. Radek Flek (CZ) – Yokomo – 310
3. Kiyoto Kanno (JP) – Xray – 305
4. Yuta Koike (JP) – Hot Bodies – 304
5. Toni Mateo (ES) – Yokomo – 303
6. Sandro Kuriger (CH) – Yokomo – 303
7. Francesco Martini (IT) – Xray – 302
8. Yoshihiro Abe (JP) – Tamiya – 298
9. Kyoichi Matumoto (JP) – Yokomo – 298
10.Siegel Toki (JP) – Yokomo – 295
View the complete event results here.
View the event image gallery here.