November 19, 2011
Volker takes opening qualifier at ATS
Categories - Report,Racing , trackback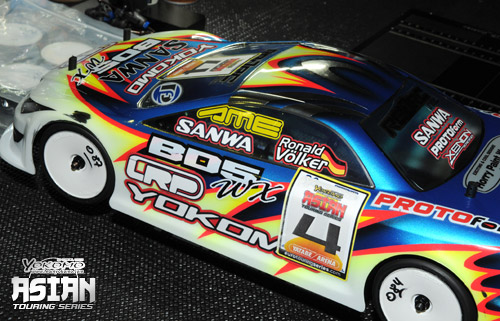 Current Euro Touring Series Champion Ronald Volker has taken the opening round of qualifying for the Asian Touring Series pilot race, the factory Yokomo driver running 19 laps in 5:11.104 to top practice pace setter Juho Levanen by 3 seconds. The German ace described the run as 'clean' and said while his LRP powered BD5 WXi was good there was room for some small improvement which he feels if made would allow him to push that little bit harder.
Having made mistakes during his practice runs, Volker said his focus for the opening qualifier was to produce an error free run and having seen Levanen, Matsukura and Hagberg all get out of shape ahead of him said he knew the round was his for the taking.  Running a fresh set of the hand out Ride 28 tyres, as did team-mate Matsukura, for the opening qualifier, Volker said he should have a better advantage of Levanen and Hagberg who ran used tyres with practice showing his car in particular is better on used tyres.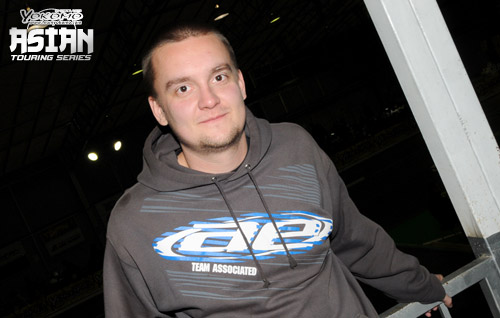 Levanen said his opening qualifying run wasn't as good as practice when the factory Team Associated driver topped the time sheets.  Having changed the timing of his tyre treatment he said it resulted in his TC6, which features all new suspension arms, suffering from understeer in the opening part of the run.  This also led to the Finn having to let the number 2 starting car of Matsukura passed which would cost him a little time.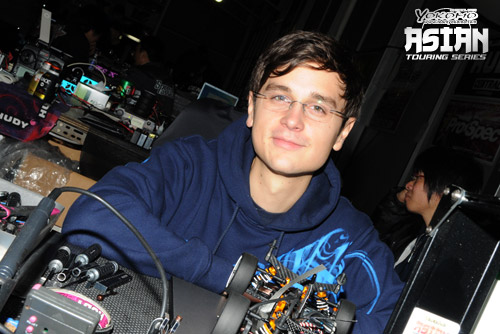 Hagberg was on target to run a faster time than Levanen but half way through the 5-minute run flipped him Xray coming onto the main straight.  The Swede said his LRP powered T3 2012 was pretty good but he needs to drive it better.
The fastest non-European driver with fourth in Q1, Matsukura said he suffered a little from traction roll as a result of changing his tyre preperation.  Planning to leave his Nosram powered BD5 WXi the same for the second qualifier, the 18-year-old who set the fastest lap of the round said he will just reduce the timing of his additive for his second qualifier which he said should allow him to challenge the Europeans who he has already shown he is capable of beating on carpet, having won the recent IIC event in Las Vegas.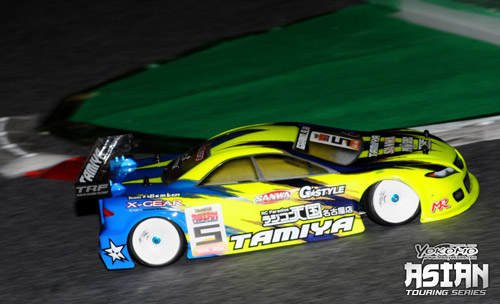 One of the drivers to challenge Matsukura at the recent Japanese Nationals, Akio Sobue took his Tamiya to an impressive 5th fastest time just ahead of Team Xray's Martin Hudy and France's Lucas Urbain.  Another of Japan's young Touring Car talents Yuugo Nagashima set the eight fastest time ahead of Yokomo team-mate and 2009 Japanese National Champion Yamauchi Takehiro while Kyosho's Shin Adachi completetd the Top 10.
In Pro Stock Ivan Laptev continued his practice form to top the opening qualifier from Japanese driver Yuta Koike.  Laptev said his Awesomatix is working fine but he himself is starting to struggle with Jet lag.  One of the last of the European drivers to arrive in Japan for the event due to getting his required travel Visa, the Russian driver said he is struggling to concentrate and this led to a few mistakes in Q1.  Also racing the A700 in Modified Laptev, who set the 11th fastest time, said they got the set-up wrong which resulted in the rear tyres over heating but he is confident that reverting to his practice set-up he should be more competitive in Q2.
Taking his Hot Bodies to the second fastest time Koike, who is the editor of leading Japanese r/c publication RC Magazine, said his TCX was good but 'Ivan was too fast'.  His local track, the Tokyo racer said he will try to run a lower set-up for Q2.  Third fastest, Czech driver Radek Flek said his Yokomo is working really well but said he lost some time when his body tucked after he clipped one of the track markers.
View the event image gallery here.