November 19, 2011
Volker Top Qualifier for inaugural ATS event
Categories - Report,Racing , trackback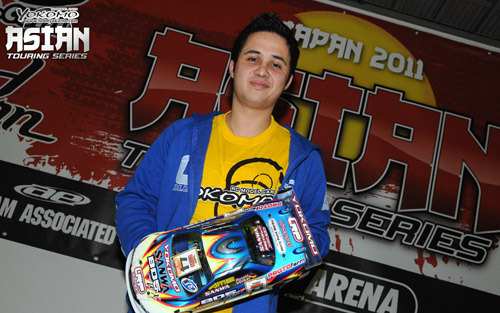 Ronald Volker is the Top Qualifier for the inaugural Asian Touring Series event after the German dominated today's four rounds of qualifying at the World famous Yatabe Arena in Japan.  With two of the five rounds to count, the Team Yokomo leader put pole position beyond the reach of his closest rivals Juho Levanen and Alexander Hagberg with his fourth straight TQ run and the focus for tomorrow morning's final qualifier will now be on who will line-up second on the grid behind the ETS Champion.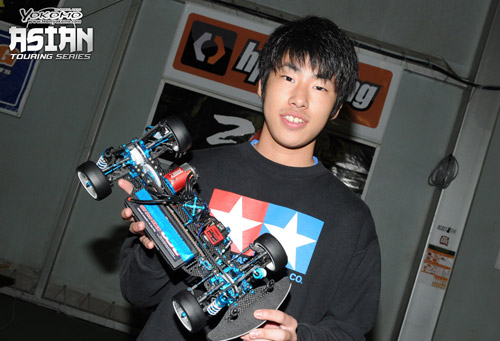 While the order at the top of the time sheets was familiar with Volker heading Levanen and Hagberg, Akio Sobue enjoyed his best result on what was a slower run for most of the drivers.  Benefiting from a troubled run for Naoto Matsukura who was classified 16th, the Tamiya backed 17-year-old took the fourth fastest time. Behind the Japanese National finalist was three times Korean National Champion E.C Kim. A member of the Much More backed team that has traveled to Japan for the ATS event team, he didn't have a good start to the day as he was disqualified from Q1 after a change of battery left his Kyosho underweight.  The 24-year-old's day has since improved and he sits 8th in the overnight qualification ranking, one point behind Martin Hudy.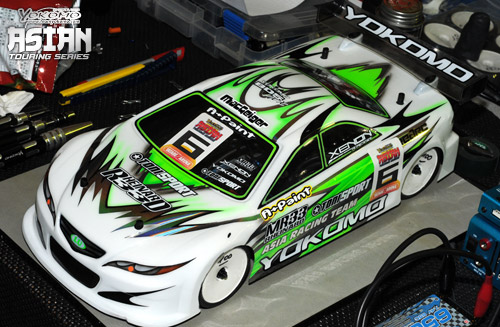 One of the few drivers to produce their fastest time of qualifying in the fourth round, Lucas Urbain matched his 6th position placing from Q2. Leaving the Team Yokomo driver sixth overall the former European Championship finalist should make tomorrow's A-Main line up putting an end to what has been a lean season for the French driver.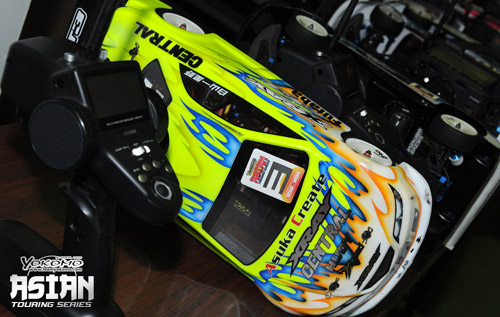 Another driver to end his day with his fastest time is young Central RC Team Xray driver Takayuki Inoue. Runner-up to Matsukura at the Japanese Nationals in September Takayuki took his T3 2012 to the 8th fastest time and currently holds the BQ position and so will be hoping for another good run in the morning's fifth and final qualifier.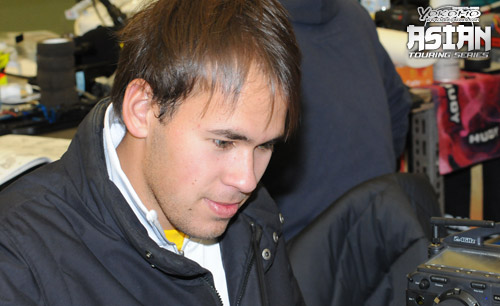 In the Pro Stock class Radek Flek secured his second TQ run of the day and sits second overall tied on points with Ivan Laptev.  The Czech driver took Q4 by over 4 seconds from the Awesomatix of Laptev after the Russian lost four seconds on his opening lap.  Swiss driver Sandro Kuriger who has changed from a Tamiya to a Yokomo chassis since arriving in Japan took third in the penultimate qualifier ahead of Italian Xray driver Francesco Martini with Kiyoto Kanno, also driving an Xray, once again the fastest Japanese driver in the 17.5Turn Speed Passion handout motor class.  In the GT500 class Kato Takashi who TQ'd the first two qualifiers, holds the overnight Top Qualifier honours from Tadashi Hattori who topped Q4 with the fastest time so far for the very detailed looking GT class which is based on a controlled extended 1:12 Yokomo chassis.
Modified Qualification Ranking (after Round 4 of 5)
1. Ronald Völker (DE) – Yokomo – 310 pts
2. Juho Levanen (FI) – Team Associated – 306
3. Alexander Hagberg (SE) – Xray – 305
4. Naoto Matsukura (JP) – Yokomo – 302
5. Akio Sobue (JP) – Tamiya – 301
6. Lucas Urbain (FR) – Yokomo – 298
7. Martin Hudy (SK) – Xray – 297
8. E.C Kim (KR) – Kyosho – 296
9. Yuugo Nagashima (JP) – Yokomo – 296
10.Yamauchi Takehiro (JP) – Yokomo – 293
Pro Stock Qualification Ranking (after Round 4 of 5)
1. Ivan Laptev (RU) – Awesomatix – 310pts
2. Radek Flek (CZ) – Yokomo – 310
3. Kiyoto Kanno (JP) – Xray – 305
4. Yuta Koike (JP) – Hot Bodies – 304
5. Toni Mateo (ES) – Yokomo – 303
6. Francesco Martini (IT) – Xray – 302
7. Sandro Kuriger (CH) – Yokomo – 301
8. Kyoichi Matumoto (JP) – Yokomo – 297
9. Yoshihiro Abe (JP) – Tamiya – 296
10.Keita Toki (JP) – Yokomo – 294
View the complete event results here.
View the event image gallery here.